20 Unique Things to do in Torremolinos, Spain – 3 Day Itinerary
The city of Torremolinos is a typical Southern Spain coastal town – a great destination for those looking for a lively atmosphere and exquisite seafood restaurants right next to gorgeous, sunny beaches!
Not to mention the liberal and vibrant nightlife you'll find hereafter the sun goes down. Whatsmore, the average summer temperature in Torremolinos is 29°C, making it a fantastic summer getaway for all in need of a bit of sun and fun!
Follow this 3-day Itinerary to squeeze the most out of your trip to Torremolinos, and feel free to transform it into a 2 or 4-day travel experience. Simply skip a few locations or take your time while exploring!
This post contains affiliate links. If you buy via them, I'll earn a small commission which helps me to keep this blog running. I received services for free for an honest review. All opinions are my own.
Top Things To Do In Torremolinos, Andalucia – Our Torremolinos Itinerary For 3 days
Visiting the Old Town and small squares
Exploring the seaside and water activities
Trying Andalusian tapas
Relaxing on the best beaches in Torremolinos
Visiting nearby towns and hikes
Useful Travel Information About Torremolinos
✈ Book cheap flights to Torremolinos with Skyscanner

⚘ Avoid tourist traps and get the customizable "Andalucia Like a Local" itinerary. – Get it here

✔ Book tours in Torremolinos with GetYourGuide

➳ Find the best hotels in Torremolinos with Booking.com

❖ Rent a car at the best rates with Discover Cars

✎ Never leave without travel insurance! I get mine at SafetyWing. It is easy to set up, cheap and reliable.

$ Withdraw money without hidden fees and avoid exchange charges with TransferWise (Free Mastercard debit card to spend money abroad)
Where is Torremolinos?
Torremolinos is a municipality in Andalusia in the southern coastline of Spain. The whole city is spread alongside the beautiful Mediterranean sea and is located only 20 km west of Málaga and 45 km east of Marbella (thus a great day trip from Marbella).
How to get to Torremolinos
How to get from Seville to Torremolinos:
Bus: Take a direct bus from Estación Prado De San Sebastián (4:30h)
Train: Take a train from Estación San Bernardo, with a bus transfer in Malaga – Maria Zambrano (4h) – Buy tickets here
How to get from Malaga to Torremolinos:
Bus: Take a Malaga to Torremolinos bus from the main bus station to Hoyo stop (0:25m)
Train: Take a direct train from Maria Zambrano station (00:20m) – Book tickets here
How to get from Malaga airport to Torremolinos:
Bus: Take a shuttle bus to the main bus station, and change for Torremolinos (1h)
Train: Take a direct train from Malaga airport to Fuengirola with a stop at Torremolinos (00:50m)
You can also opt for a direct airport transfer with KiwiTaxi. – Check rates ehre
To learn more about the province of Malaga, take a look at the Malaga surroundings.
Day 1
Visit Torremolinos Old Town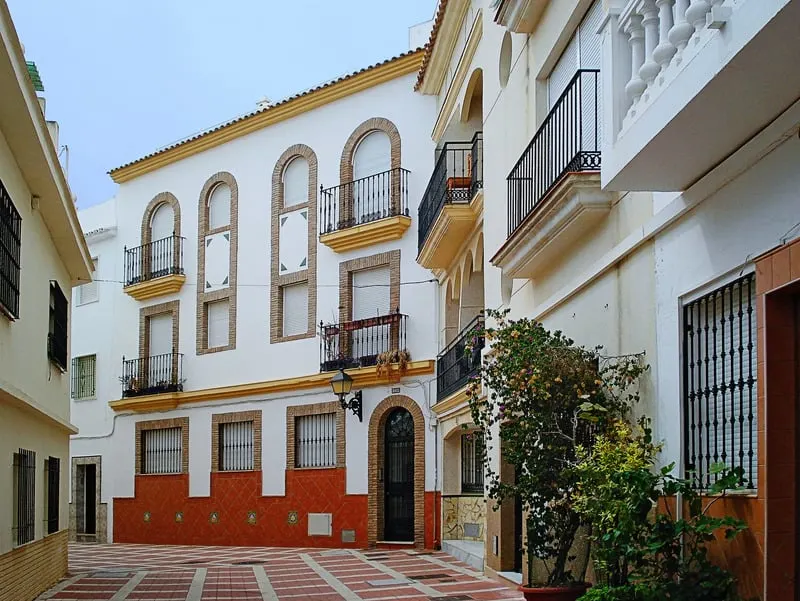 The Old Town of Torremolinos is a true gem amongst the coastal towns and cities. It's quite petit and relaxed, with not too many crowded squares or massive buildings, making it a very authentic and tranquil spot.
The best way to discover the center is by getting lost in the narrow Andalusian streets, with plenty of small bars and cafes on their corners inviting you to experience not only some delicious and fresh treats but also to share with you the genuine and friendly atmosphere!
Discover the Carihuela district
The old fisherman's district is a neighborhood of Torremolinos located in the south-west part of town. A great place to have a walk along the seaside from Plaza del Remo, and enjoy the best seafood served in small bars and restaurants along the coastline!
It's thus the perfect occasion to enjoy typical food from Malaga province.
It's a bit touristy and can be packed during the summer months, but it is definitely worth a visit – especially to see the natural monument – Morro de Torremolinos – splitting the Paseo Maritimo in two.
Head over to Jardín Botánico Molino de Inca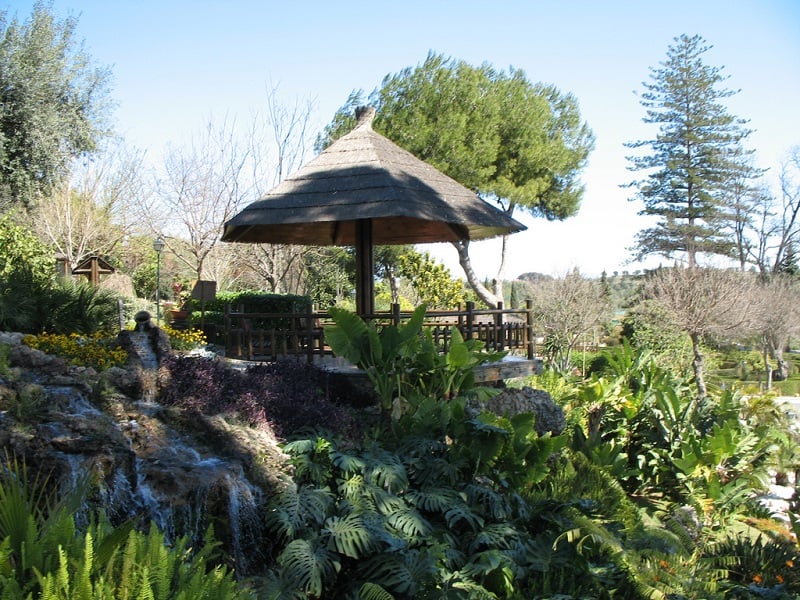 After the sunny coastline, head down to this hidden little gem, to find yourself in a wonderful blooming garden!
Fantastic greeneries, aviaries, a maze, a Japanese garden, and a small museum, are here to take you into a completely different scenery and atmosphere.
This peaceful and wild oasis is something you'll definitely appreciate after the hustle and bustle of the touristy seaside.
Opening times: Tues – Sun: 9:00 – 18:00
Wander in Parque de la Bateria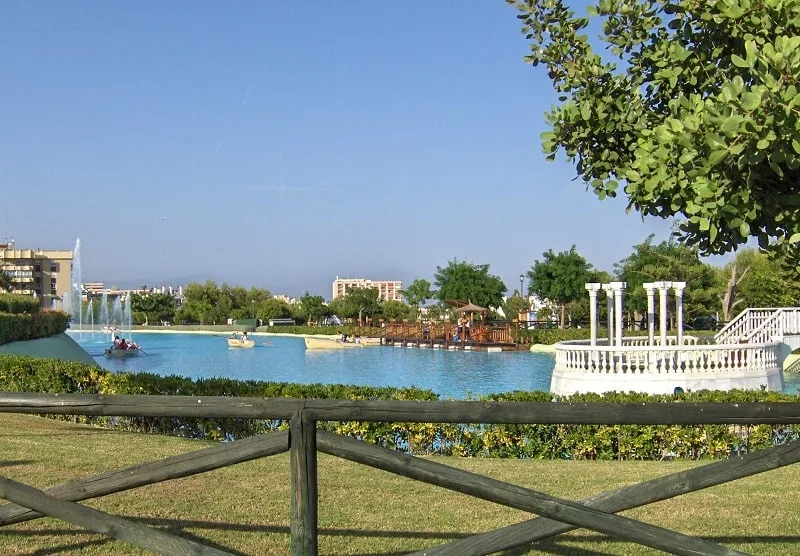 Another green getaway is located in front of Playa de la Carihuela. Plenty of pathways to walk around, and full of open space areas make the "Battery Park" the best place to unwind which makes it a great relaxing resting point.
Be sure to head to the monumental tower in the middle of the park Parque de la Bateria, to enjoy a great view of the Mediterranean sea and the beaches in Torremolinos!
Lunch in El Gato Lounge
Inspired by Spanish traditions and Mediterranean cuisine, El Gato Lounge is one of the best lunch restaurants in Torremolinos!
A breathtaking beach view from the terrazze tables and the light breeze of the sea will definitely make your lunch a memorable experience.
Try their juicy crispy shrimps and the delicious tuna tartare if you truly want to be blown away by the Spanish seafood cuisine!
To discover more about Andalusian foods, take a look at this article we wrote on the best Andalusian foods, Spain.
Explore the beaches of Torremolinos
Torremolinos is best known for its easy access to the coastline and a huge variety of beaches waiting for you to enjoy the white sand and clear water!
Since they are all very close to each other, it's a great idea to take a stroll from one beach to another, and check for yourself which one you like the most.
Best beaches in Torremolinos:
Playa La Carihuela
Playa El Bajondillo
Playa Los Alamos
Visit the Crocodile Park
One of the most exciting and quirky things to do in Torremolinos is visiting Crocodile Park! A small, but very well preserved park, where you will be able to gaze at the magnificence and power of those exotic animals.
You can book a guided tour, witness crocodile demonstrations, and have the possibility to see and pet a baby croc from up close! Definitely a memorable way of spending your holidays in Torremolinos. – Book tickets in advance here
Take a picture at Casa de las Navajas
Very close to Playa Bajondillo you'll find one of the most known historical buildings in Torremolinos. Casa de las Navajas, built in 1925, is open to the public and is free to wander around to explore the Neo-Mudejar style of traditional Andalusian villas.
Beautifully ornamented, and designed with plenty of Mozarabic touches, it often hosts exhibitions, theatre performances, and concerts!
Don't forget to check beforehand and you might be pleasantly surprised with some traditional Spanish entertainment!
Opening times: Mon – Sun: 11:00 – 14:00/ 18:00 – 20:00
Watch an Andalusian Horse show in El Ranchito
This thrilling and beautiful horse show is performed every Wednesday at 17:45, and has been organized continuously for the last 22 years!
You'll be invited to gaze at amazing performances of the finest Andalusian riders and their horses while enjoying a refreshing Tinto de Verano from the seats!
Not to mention the precise choreography and music which accompanies the spectacles – a true masterpiece of human-animal performance, and an exciting show you simply must see when traveling through the Andalusian coastline! – Check prices here
Go shopping in Calle San Miguel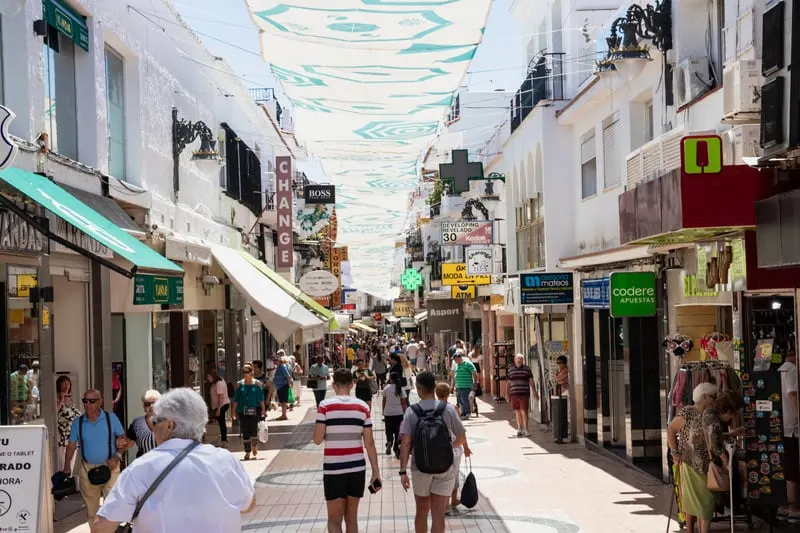 Whether you're looking for shopping centers in Torremolinos, or want to find authentic and local stores, you should head to Calle San Miguel!
It's the main shopping zone in town, and the street is lined with plenty of coffee shops, restaurants, specialty stores, and local squares.
If you're looking for traditional Spanish products head down to Las Tres Torres, and marvel at the handcrafted gems it has on sale!
Enjoy tapas in Torremolinos
If you're wondering what to do in Torremolinos after the sun sets, it's definitely time for tapas!
This delicious and cheap tradition of having a well-prepared snack with a drink is a great way of eating out and discovering Andalusian cuisine at the same time.
Check out some of the best Tapas bars in Torremolinos:
Day 2
Visit Aqualand Torremolinos
Aqualand is the biggest water park on the coastline, and is known to be one of the most popular attractions on the Costa del Sol!
Visiting this waterpark in Torremolinos is a great way to start your second day and will definitely take you on an unforgettable water adventure!
With plenty of different sized slides, tubes, water rides, and beautiful garden areas all around, Aqualand is a great destination to spend a few hours or even a full day.
And when you get tired, head to the specially prepared green spaces to have a small picnic and regain some energy!
Make sure to skip the line and book tickets in advance. – Check prices here
Opening times:
May/Jun/Sept/Oct: 11:00 – 18:00
Jul/Aug: 10:00 – 19:00
Go shopping in the markets of Torremolinos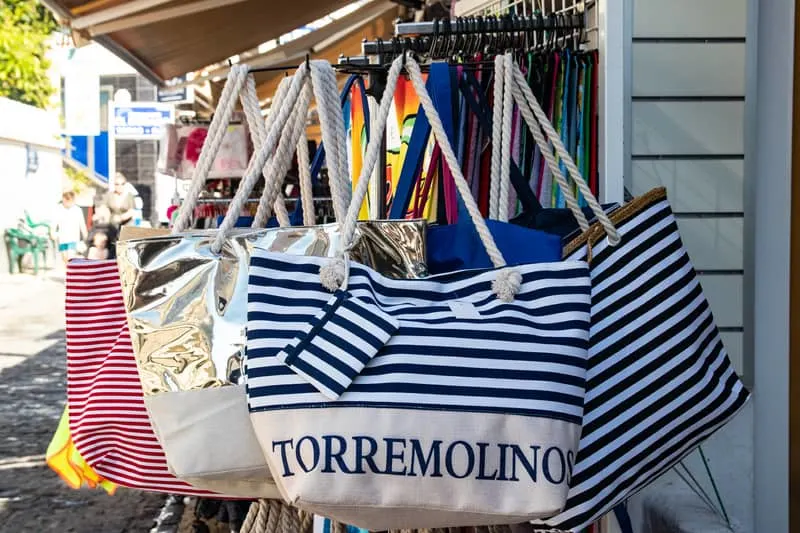 Visiting local markets is yet another great way of diving into the beauty of Spanish culture. You can find two street markets in Torremolinos: one on Thursdays, where you'll find everything from fruit and vegetables, plants, clothes and domestic utensils.
And the second one on Sundays, with second-hand goods, antiques and craftwork. Both are located in the feria ground at the end of Avenida de Real.
If you want to shop more or want more options, I also recommend having a look at our Malaga itinerary, since the Andalusian city id only a short drive away from Torremolinos.
Opening times: Thursday and Sunday: 9:00 – 14:00
Have a coffee at Plaza Nogalera
Spanish towns are known for their amazingly picturesque squares, with plenty of lively bars, cafes, and restaurants!
To have a delicious coffee just stroll down to Vanilla Cafe at Plaza Nogalera and enjoy the passing time while sipping a delicious, freshly prepared brew!
The whole Plaza has a truly gorgeous setting, with plenty of greenery and a modernist fountain representing "The birth of Eve" dating from 1993.
Opening times: Mon – Sun: 9:00-02:00
Lunch in Mejor con Reserva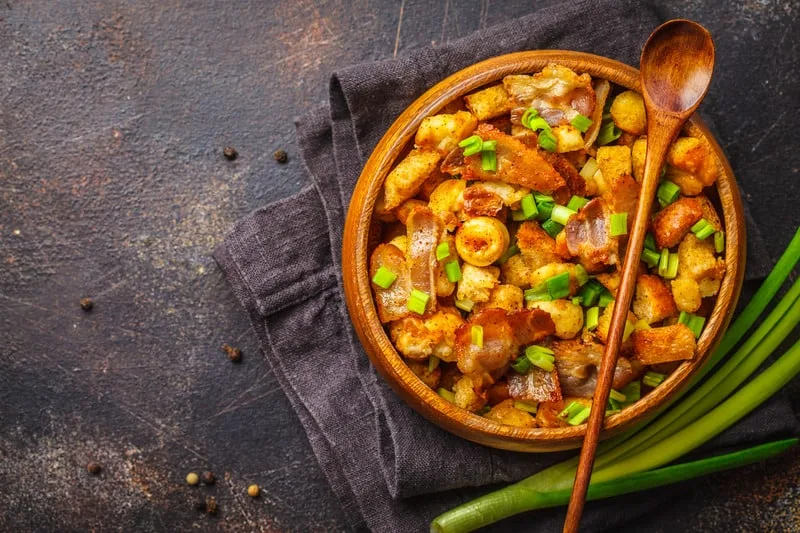 Mejor con Reserva, as the name says, is a place where it's best to have a reservation, and there is a good reason behind it! The restaurant is well known in Torremolinos and has been attracting visitors ever since they opened in 2014. https://2aad8bb8b22dd8c1001ec8c10a80c8b5.safeframe.googlesyndication.com/safeframe/1-0-38/html/container.html
Delicious food prepared with the freshest ingredients, a nice ambiance and very friendly staff are all you need to have a great time and explore Spanish cuisine.
Try their Iberian Pork, or Entrecot, and don't forget to ask for their delicious cheesecake for dessert!
Opening times: Mon – Sun: 12:00 – 16:00/ 19:00 – 23:00
Visit Tivoli World, Torremolinos
The famous amusement park, Tivoli World , has been offering excitement and entertainment since it opened in 1972, and until this day is one of the best coastal getaways!
It's located in Benalmadena and only a 15-min drive away from Torremolinos.
A fantastic place to get dizzy on plenty of carousels, scream out of fear in haunted houses, or bump around in go-karts. They also have water slides and an indoor play area!
If you can, try going on a friday morning – you'll be able to attend a street market and a funfair with shows!
Opening times: Mon – Sun: 12:00 – 19:00
Do water sport activities in Torremolinos
If you head down to the coastline, you'll stumble upon endless possibilities of water activities, equipment rentals, and water sports lessons!
Indeed, you might be surprised by the large offer when it comes to outdoor activities. The best place to check out what's going on in the water is on Playa Rafa!
You'll be able to choose from many fun and exciting activities such as kitesurfing, paddle boarding, boat trips, diving, or even jet skiing in Torremolinos, and will definitely get your heart pumping!
Most of the organizers are located in Benalmadena – Check waterports here
Enjoy Torremolinos nightlife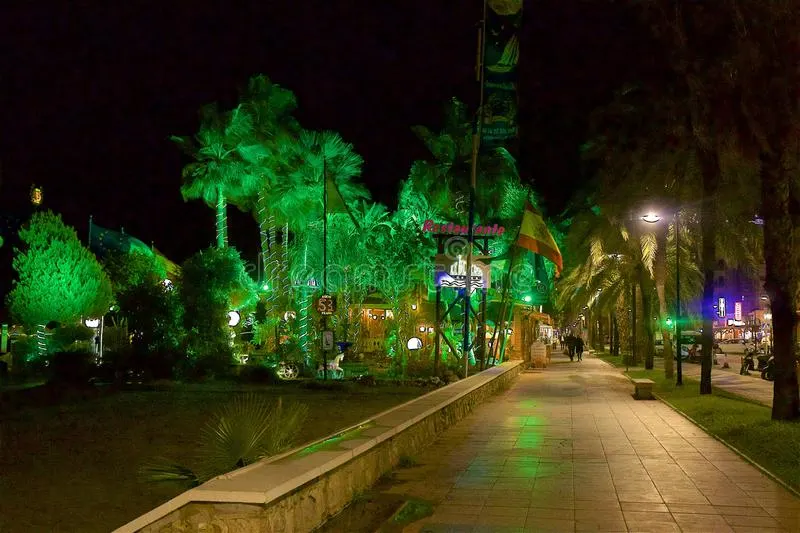 When the sun goes down, it's time to head out and explore the city after dark! Nightclubs in Torremolinos are known to be one of the liveliest on the coast, and you'll find that there are plenty of places you can go out for drinks, karaoke, parties, or late-night flamenco shows!
Check out one of the best places to have a great night experience and dive into the lively Spanish dance floors!
Best clubs and nightlife in Torremolinos:
Boomerang
Tanit Beach Club Torremolinos
Styles Music Bar
Taberna Flamenca Pepe Lopez
Day 3
Day trip from Torremolinos to Gibraltar
This little British colony located on Spain's furthest south peninsula is a perfect day trip destination and a great way of just "walking into" a different country!
Remember to have your documents with you, and check if you need a visa to enter! Known for its unusual location, and the breathtaking views, the Gibraltar Rock is definitely worth seeing.
Not to mention the infamous Macaque monkeys, which often rip bags and purses with food from the tourists! – Check tours here
Best places to see in Gibraltar:
Gibraltar Rock
St Michael's cave
Mosque at Europa Point
For more information, please read the following article: things to do in Gibraltar.
Book tours to Gibraltar in advance here
Day Trip to Granada from Torremolinos
Granada is one of the best places to visit after spending some time on the coastline! If you are doing only one day tour, day trips to Granada from Torremolinos are a must!
With plenty of gorgeous, picturesque squares, streets filled with Arabic reminiscences, and the sound of flamenco music, it truly is a cultural wonderland.
The Sierra Nevada Mountains in the distance will take your breath away while wandering around the different districts of the city.
Best places to see in Granada on a day trip:
The Alhambra Castle ( book your tickets in advance!)
Generalife and
Albayzin district and the St. Nicolas viewpoint
Flamenco show
For more information, please read the following article: things to do in Granada.
Day Trip to Ronda from Torremolinos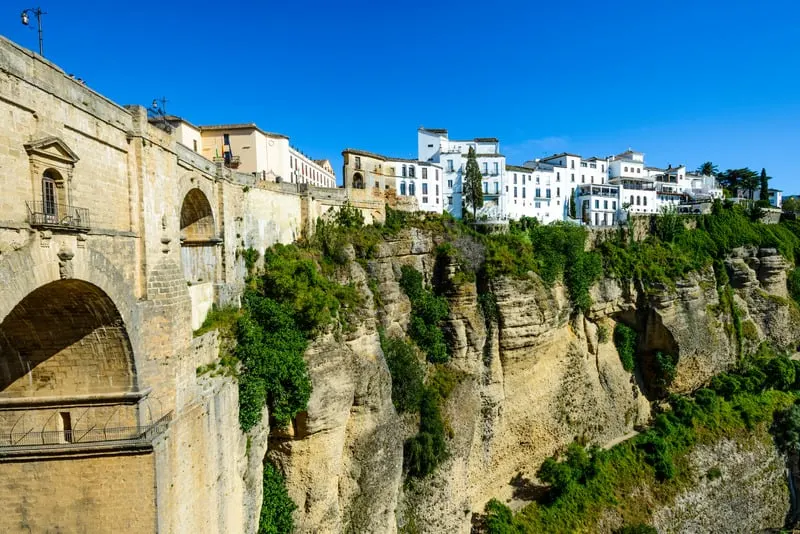 Located on the top of a deep and steep gorge, Ronda is another great choice for a one-day trip when traveling around Andalusia!
Known to be the capital of modern bullfighting, this mountain town has not only a picturesque setting but also a fascinating historical background!
Let yourself get lost in its narrow streets, and enjoy the fresh air and natural splendor surrounding the town from each side! – Check tours here
Best places to see in Ronda on a day trip:
Puente Nuevo
Bullring
Paseo de Ernest Hemingway
El Tajo district
Hike Caminito del Rey from Torremolinos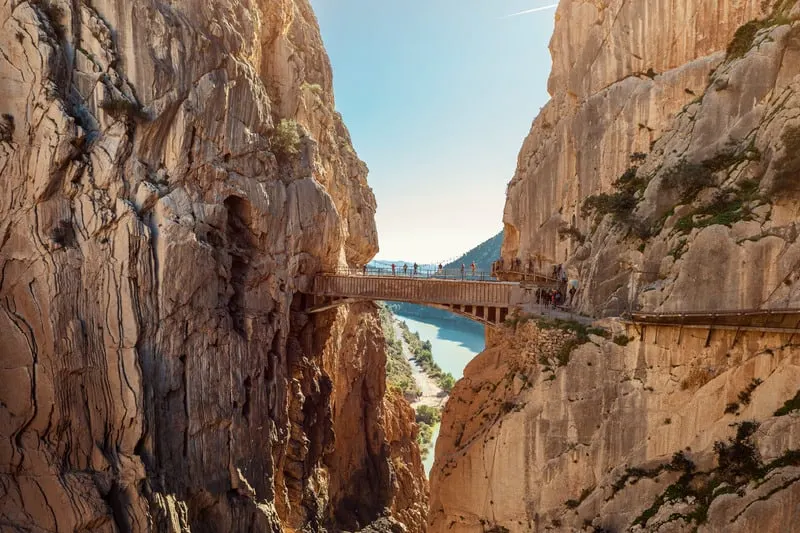 Just an hour's drive north from Torremolinos, you'll find one of Spain's most known hiking trails! The mountain path in El Chorro takes usually from 2 to 3 hours and is a fantastic opportunity to actively relax in nature.
The trail is very well prepared, which makes it a great day trip from Torremolinos into the mountains!
Remember to bring some food, water, and sunscreen and prepare yourself for a walk right on the mountain edges, looking down into the deep abyss below!
Make sure to also check what are the things to do in Benalmadena since it is only a short drive away.
Best Hotels in Torremolinos, Southern Spain
Below you'll find some of the best hotels in Torremolinos, where depending on your needs and budget you'll be able to find relaxation, activities and get some rest after all the sightseeing!
Located right in front of Playa Bajondillo, this 4-star hotel is a perfect choice for the most demanding travelers!
Not only will you wake up right next to the beach every day, but you will also stay in beautiful and spacious rooms with a great view!
The hotel offers additional services such as wifi, outdoor pool, on-site restaurant and bar, free parking, fitness center, bar, bicycle rental. – Check rates & reviews here
Also with a lovely beachside location and a sunny outdoor terrace, Sol Don Pedro**** is another fantastic place to stay if you're looking for accommodation in Torremolinos.
It's a part of the Don Hotels Complex, has tidy, well-decorated rooms and very attentive staff that will help you 24/7!
The hotel offers additional services such as wifi, free parking, outdoor pool, fitness center, lounge bar, access to the beach and bicycle rental. – Check rates & reviews here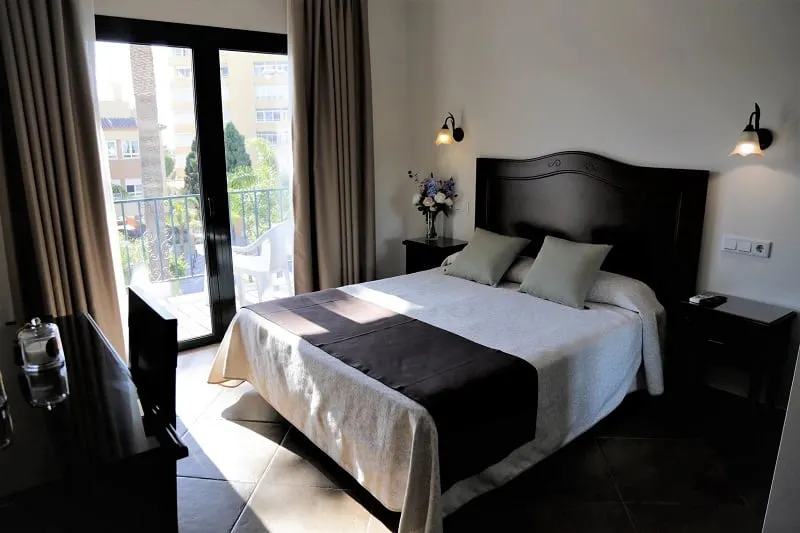 Located close to the Plaza de la Nogalera and a short walk from the beach, Arcos de Montemar*** is a great choice for those looking for cheap accommodation in Torremolinos.
A family-friendly hotel, with plenty of space for kids to have fun and for you to relax after the busy day!
The hotel offers additional services such as wifi, paid parking, outdoor pool, coffee shop, airport shuttle, sun terrace. – Check rates & reviews here
Getting Around Torremolinos
Buses in Torremolinos run quite frequently to other coastal towns such as Fuengirola, Marbella and all the way to Algeciras.
Discovering the city itself is best done on foot or by bicycle since the distances between the main attractions are quite small.
But if you are planning to discover the coastline further, it's best to rent a car to freely explore the surrounding towns and beaches! – Check car hire in Torremolinos here
---
Best Attractions in Torremolinos, Spain Map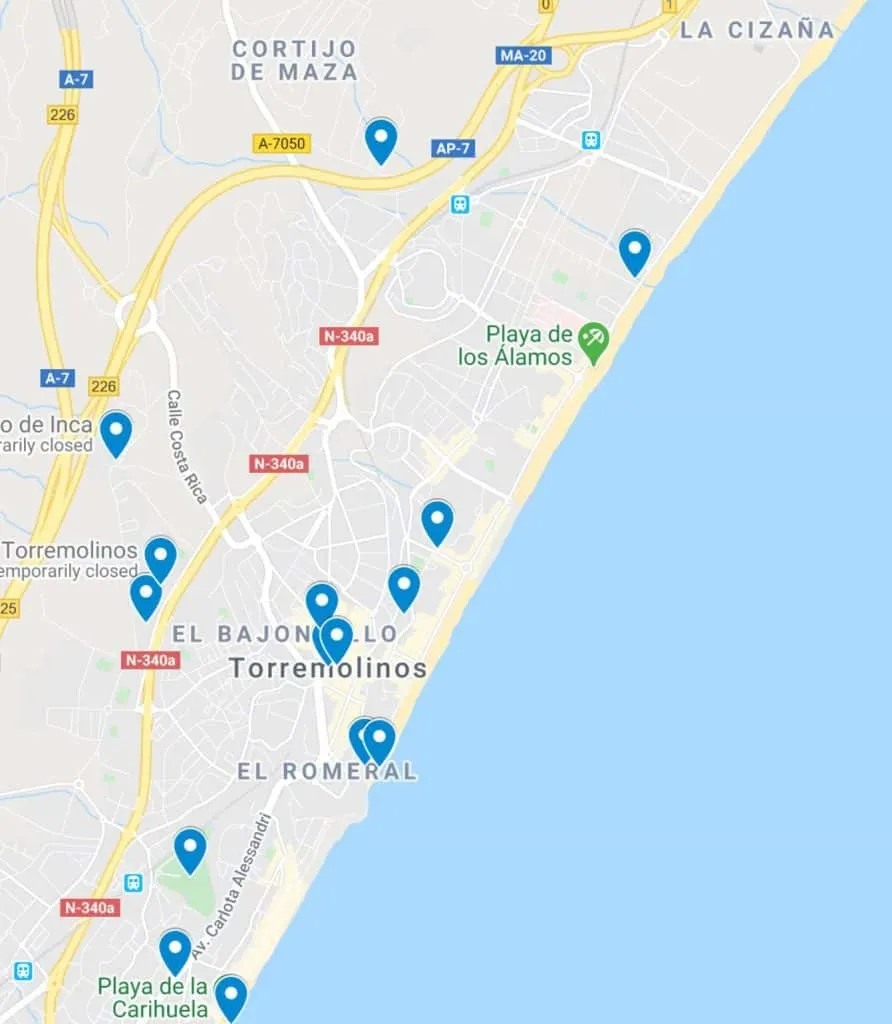 ---
A short FAQ about the best attractions in Torremolinos, Spain
What are things to do in Torremolinos when it rains?
What to do in Torremolinos when it rains? You may want to indluge in food at Mejor con Reserva – Avenida Lido 10.
What are things to do in Torremolinos at christmas?
One of the typical things to do in Torremolinos at Christmas is visiting the "Belen", eat turrón and go to church.
What are things to do in Torremolinos for families?
When looking for family things to do in Torremolinos, Spain, you should consider visiting Aqualand.